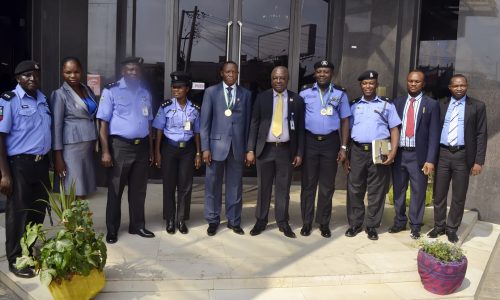 Our Proposal
The Institute is all embracing in security matters and Justice Administration. However, the coming of this Institute is timely considering the reform agenda of the Federal Republic of Nigeria which have infiltrated in reforming and restructuring the Nigerian Police Force and other arms of the Armed Forces, including Prison administration. Since, it will serve as an avenue through which qualified personnel will be made readily available to the society thereby helping become solutions to issues leading people to commit heinous crimes.
Our Objective
The Institute has the main objective of training and educating students who are career minded in the areas of Criminal Justice Administration, Criminology and Forensic Science Programme for improved academic standard and professionalism. The act empowers the institute to:
Facilitate and develop security research, surveys analysis, self orientation through scholarship and certification.
Supply any person or persons (corporate or unincorporated) with ideas, plans, strategy, advice, information and all assistance required to meet security imperatives. Be involved in establishing in establishing liaison with government community and educational bodies in the areas of justice administration.
Facilitate and encourage the development of forensic science administration, detection of crime by organizing courses, seminars and workshops at the end of which certificate of completion will be awarded.
Acquaint students with in-depth understanding of the principles, theory and practices of criminal justice administration, criminology and forensic science course study.
Educate, enlighten and train the general public and government institutions on the principles of crime detection management and control.
Internship
Our Institution Provides our student an opportunity related to theory to practice through observation in an experience in an approved agency and to develop of refine professional skills under the supervision of an instructor.
Our Vision
The vision among others is to be the preferred education provider in Criminal Justice Administration and Criminology in the whole of African Continent. Also to engage in security management and to provide for the physical protection of persons and property, car tracking, access control ID, burglary alarm (wire or wireless) conference room device packages. To also be involved in establishing links with government, community, and educational bodies in the areas of Justice Administration. To educate, enlighten, and train the general public and government institutions on the principles of crime management and control.
To also ensure that trained Professionals from ICJCA programs remain highly competitive candidates for jobs in local, state, and federal law enforcement; probation and parole; corrections; non-profit social services; security; public service, encourage creative thought, incorporate advanced technologies, and emphasize critical thinking